Ok, So firstly, there's a whole ass serial killer running around my neighborhood shooting unsuspecting people dead.NO LIE. And Obviously since it's happening in the black part of my neighborhood (which most of my neighbors won't admit is the black part of my neighborhood) there are rumors that the person is a black man. Light skinned. 6 feet something inches tall. AND if the serial killer IS this man then he deserves to be put all the way up under the jail. Once for killing people for no good god damned reason. Twice for all of the black people who are now being terrorized, harassed, and arrested by SWAT, the FBI, Tampa Police Department and every other law force that's been running around here for weeks.
S/N ALLLLLLL OF THESE PEOPLE BEEN RUNNING AROUND HERE FOR WEEKS AND SOMEONE IS STILL ABLE TO KILL RANDOM ASS PEOPLE IN BROAD NIGHT/DAYLIGHT. – File this under reasons why I know we don't need military gear on police officers. 
I can't even talk about this serial killer anymore without getting really upset so hopefully Santa's ass will be able to find him. My friend Nicole thinks that Santa is the dude for the job since the police are failing miserably. I mean, he does know when you've been bad or good so…
I love being an entrepreneur and running my businesses but honestly there are days when I want to punch people that I work with SQUARE in the jaw. Like So: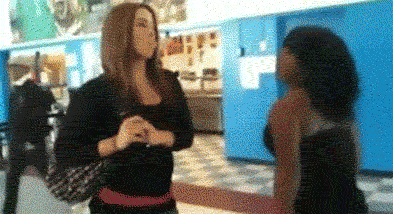 Like today when I called an employee and was all like "Hey, I don't have your timesheet. And he responds" Oh, I wasn't here yesterday. So I'll pass it on." And I wanted to respond "NO bxtch. It's your time. Turn it the eff in." But I instead just said "No. I need you to send it to me ASAP." In a professional voice. I would really like to punch him. Unfortunately for me, punching people is frowned upon in most circles.
My best friend sister and I almost exclusively communicate on a video app where I record a video and then she responds with another video. These videos- sometimes long and rambling, sometimes short and ranting are usually the highlight of my day. We live sixty six billion miles away from each other but it doesn't feel that way. #ThanksCommunicationApps
Also, DJ thinks the videos are weird. "Why don't you all just call each other." I just smh and roll my eyes. Children can be so judgey.
Speaking of DJ, He's a member of his school's Model United Nations Team and hasdecided that he's going to be on the fundraising committee. He's raising money to help the team get to Washington DC and I'm super proud of all of the texts, phone calls, and emails he's sent out attempting to raise funds for his team. My family and friends who've been on the receiving end of the give me money calls may not be so happy but ehhhh. *shrugs*
I'm participating in NANOWRIMO but since my life doesn't always allow for typing on a computer every day for writing stuff, I've been mostly writing in my journal and on my phones notes app. I can't tell you where I am on the word count but I have been writing everyday and for me that's more than enough
.
OH, and I got another rejection letter to a fellowship I applied for. YAY ME.
Lastly, my dogs are still out of their minds. I've just realized that almost every corner of my house has been nibbled on by these two love bugs. Good thing I plan on living here forever, even with the serial killer. * Le Sigh*